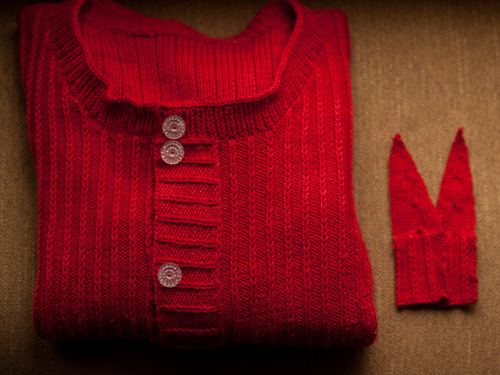 What's going on here? Matching ears to wear with a cardigan? Guess again. The edges of those funny little pieces look almost…cut, don't they? Welcome to Sweater Hospital. Get a glass of water and have a seat if you're squeamish about surgery. Patient #1, featured here, is Deco. She's a Kate Davies cardigan I just couldn't resist, knit in a yarn I love madly. But her journey into being was a troubled one. Nothing about the knitting experience was comfortable. I was plagued by fears of running out of yarn (I did; my Deco has 3/4-length sleeves to show for it) and those fears, plus a desire to finish the thing and wear it, prompted some decisions I knew weren't very sound.
It seems to me that most designers—quite understandably—like to make what looks good on them. Kate Davies and I don't share a body type, although at a glance we're both slender and can wear similar shapes. I've learned to tread carefully in approaching designs by women who are quite a lot smaller or have different proportions than mine. I have a long torso, so I almost always need to add length, and there's quite a difference between my hip and waist measurements, so it's important to get the waist shaping in the right place. I didn't achieve that with Deco. The dense fabric Kate favors means the sweater will wear very well, which I appreciate, and I'm not afraid of small needles. But this fabric is so stable that it also won't grow lengthwise, even with aggressive blocking. I think I realized this, but I didn't want to accept it, given how short of yarn I was. Also, this design uses the classic approach of placing all the shaping at the side "seam," so there's no hiding it if you misjudge the rate of decrease. I ended up with unattractive pooches of fabric intended to accommodate my hips riding up at my natural waist. Ugh. I also had gapping at the bust between the snaps. (Yes, there are buttons in that photo, but they're just for show. There are snaps sewn to a ribbon on the facing underneath.) Poor Deco was languishing in the closet.
So what to do? This cardigan is finished within an inch of its life at the fronts. No way could I take it apart and start from scratch without hours and hours of labor just in the deconstruction phase. There is no way to cut it and add length and graft it back together once the button band is on. (Plus there's no more yarn.) The only other way to salvage it, I decided was to cut out the troublesome darts. I'd end up with a seam from the waist down to the hem, but that seemed preferable to never wearing it at all, and I decided the sweater probably wouldn't fall apart if I reinforced that seam properly.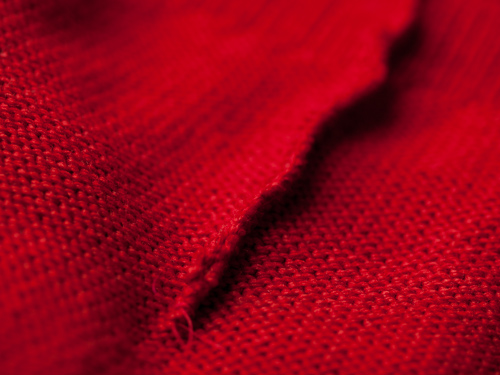 Oh, did I reinforce. First I mattress stitched together the two columns of stitches that needed to meet to create the fold of fabric I was going to cut off. Then I blanket stitched them together again one stitch up the fold itself, on the theory that the blanket stitch would help protect the raw edge. I took special care to secure the top and bottom of the seam. All this I did with doubled polyester sewing thread in a matching color so it would be strong and invisible. Only then did I cut just above my blanket stitching. Here's how it looks from the outside: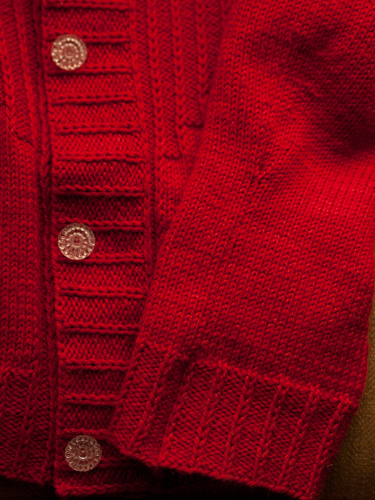 As you can see, the seam is all but invisible in the stockinet portion of the body. It wasn't possible to be quite so discrete through the slipped-stitch rib, but it's not half bad. And now I've got a cardigan that looks intentionally cropped, which is what I should have created in the first place. I should have just cast on the number of stitches I needed at the smallest portion of my waist, allowing for the ribbing to stretch a bit over the swell of my high hip. It's the perfect shape to wear with a high waisted skirt, which seem to be proliferating in my closet anyway.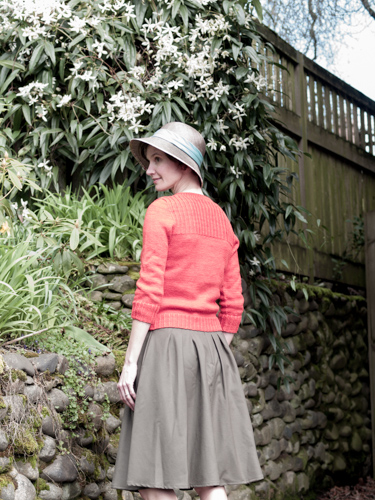 (We're going to pretend this shot is some kind of intentional vintage film effect, although the truth is that Mr. G didn't check the settings and I honestly think the camera just lost all composure in the face of retina-searing coral red against luscious spring greenery. Anyway, be thankful I desaturated this photo in post-production.)
Deco was not the only patient in Sweater Hospital of late. After my son stretched out the neck in his quest for, um, unrestricted access to his favorite terrain, Moroccan Nights was badly in need of a quick repair job. This one was much easier: a simple crochet chain worked into every stitch just beneath the cast-on edge, tidy and barely noticeable once I got the tension just right. Now she doesn't plunge off both my shoulders and I can wear her again.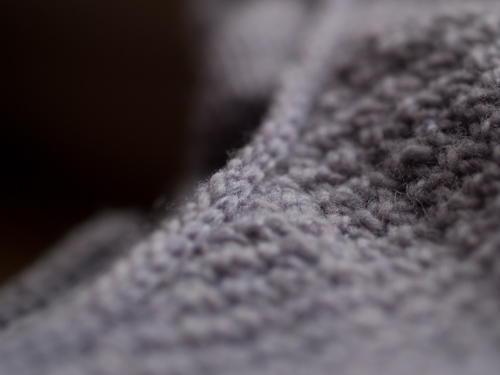 And, with that, the patients are ready to go back to the closet and out into the world! Surgery a complete success. It's very satisfying to bring handknits back to useful life. It's such a shame when you've spent all those happy, anticipatory hours in the fabrication only to end with a garment that makes you glum.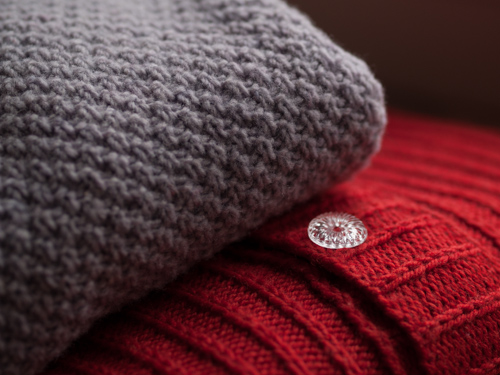 Still to do: stabilize the shoulders and neckline on Blue Thistle and re-knit the back neck of Brigitte to see if I can solve her many problems. Work for another day. And of course there's the basket of children's clothes in need of mending…