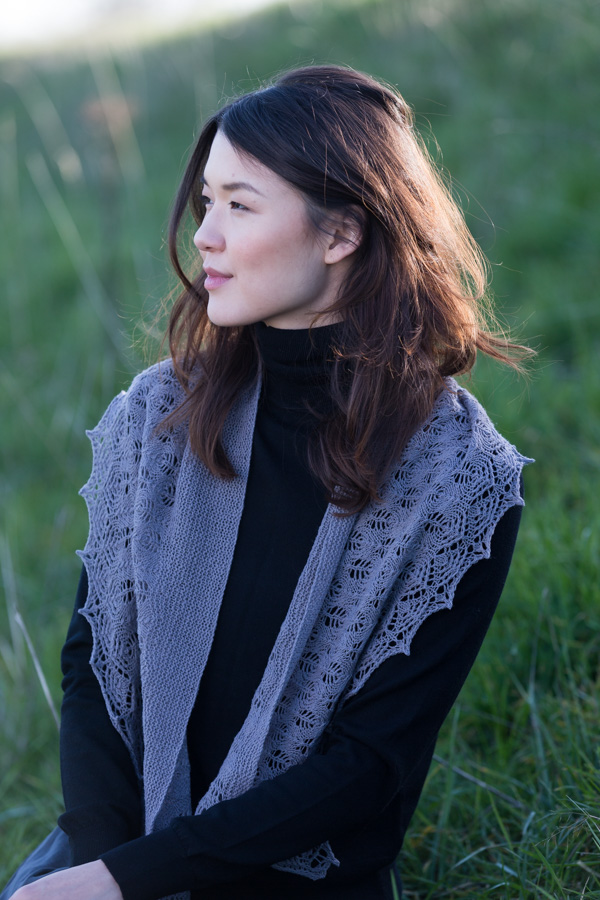 Photo by Jared Flood for Wool People 10
Glad to share a new design today—the Haro crescent shawl is pleased to meet you! I'm so fortunate to have a piece appearing in the wonderful Wool People 10 collection. Go browse Jared's beautiful photos from Sauvie Island and soak in the scrumptious cables and exquisite lace… I'm wanting to cast on Nadia Crétin-Léchenne's simple, soothing Scalene triangle, Bristol Ivy's Marylebone cardigan, and Melissa Wehrle's Bronwyn pullover especially!
Haro is a simple little summer accessory knit in laceweight Rambouillet Plains. It's a quick knit and a good project for building your lace skills—the Fir Cone pattern is among the easiest lace motifs to work, but I love how effective it is. And you're working over the full stitch count during all the lace knitting, so you don't have to keep track of patterning over an expanding number of stitches. The edging is a step up, with lace maneuvers on both sides of the work, so you'll feel really accomplished by the end. I'm thinking of making a second Haro in a bright persimmon wool/silk skein (it's been in my stash for more than a decade!) for times when I want a pop of color to liven up my growing wardrobe of neutrals.
Thanks, Brooklyn Tweed, for another great collection!