Visiting friends researched what's going on in town and discovered the English Camp reenactment camp-out is on this weekend. We managed to stumble upon this educational four-day living history event a couple of years ago, too, and were happy to go back.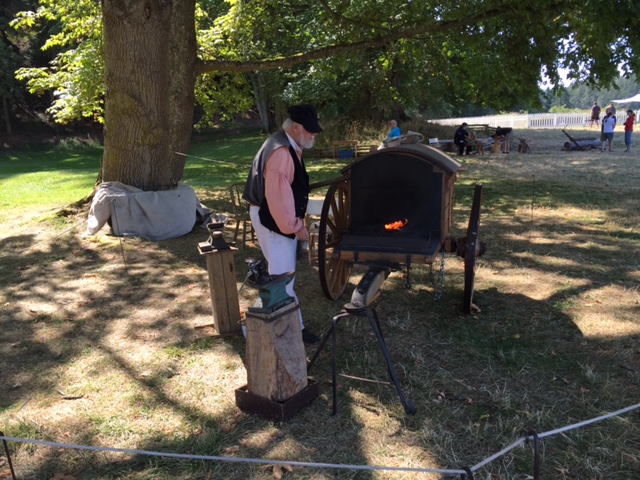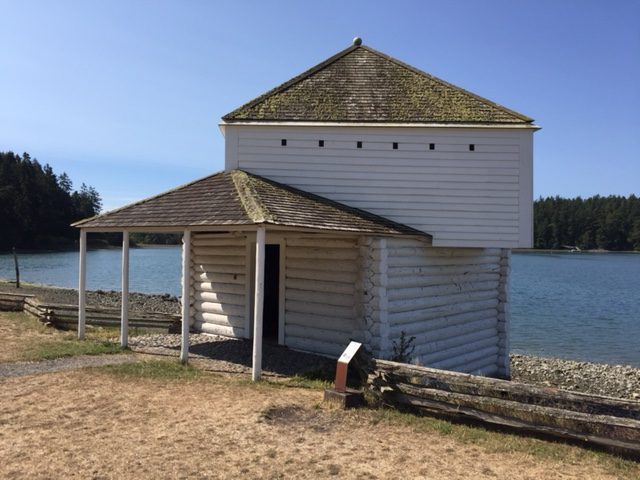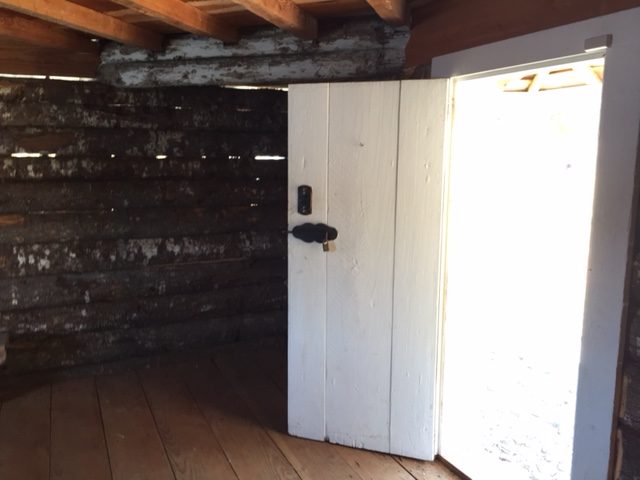 My son was excited to have the opportunity to go inside the blockhouse, built for defense of the camp. We weren't allowed up the ladder to the second floor, where naughty marines had to serve time-out, but he did plenty of imagining how it would be to poke a rifle through those little square holes to shoot at emenies all the same. (What is it with little boys and the shooting? I've begun to think our species got the idea to invent guns because wee lads were already running about pointing their index fingers at each other and shouting, "Pew, pew pew!")
The kiddos played croquet and learned a period gambling game in which you spin a four-sided top to take a coin, put in a coin, do nothing, or sweep up all the coins. (They're 1800s pennies, which were much larger than the modern-day equivalent.) Don't play against the one in the pink hat. She is already scheming about how we could carve our own top or modify a die to play this at home.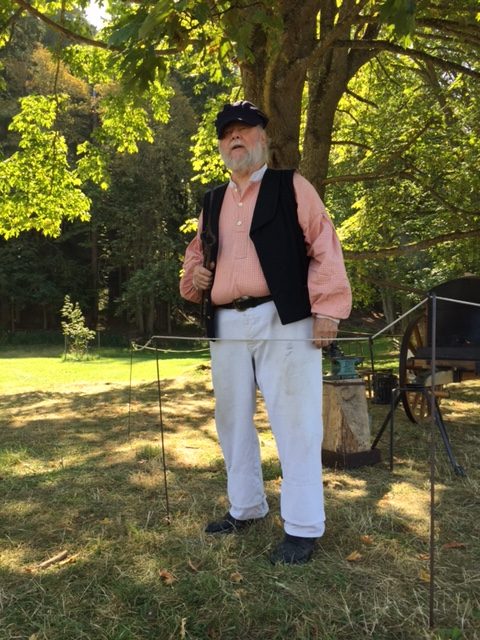 We got to watch a blacksmith demonstrate his craft with his mobile forge, learning about how younger sons were apprenticed to learn a trade and then made their way as journeymen, eventually setting up shop elsewhere so as not to compete for business with their masters.
I didn't get a photograph of the two Metis widows spinning (Romney, in the grease, from the lock), knitting, and handsewing, but I did learn some off-color Chinook Jargon from them. (Tenino, WA, I'm never driving through you without a snigger again. Please tell me whoever chose to make the high school Home of the Beavers did so in full knowledge of the town's name origin.) Middle-school humor aside, I'm fascinated by the idea of a trading language with 660 words, whittled down to just what you'd need to communicate with strangers for mutual benefit. I wonder how many similar trading languages still exist around the world?
Thanks for the fun and learning, reenacters. My friend Linus predicts I'll be joining you within four years… which is probably the length of time it would take me to sew an appropriate costume.