I should have had autumn or winter babies. The urge to encase them in new knitwear to mark another voyage around the sun is too powerful to resist, and here they're born in June and July, in the northern hemisphere. I finished my boy's sweater, a smallification of Stephen West's Drangey pullover, and tucked it into his drawer. Luckily, summer on the island can still mean a breeze with teeth, especially at the beach. We island folk know not to pack away our down jackets and wool hats for the season.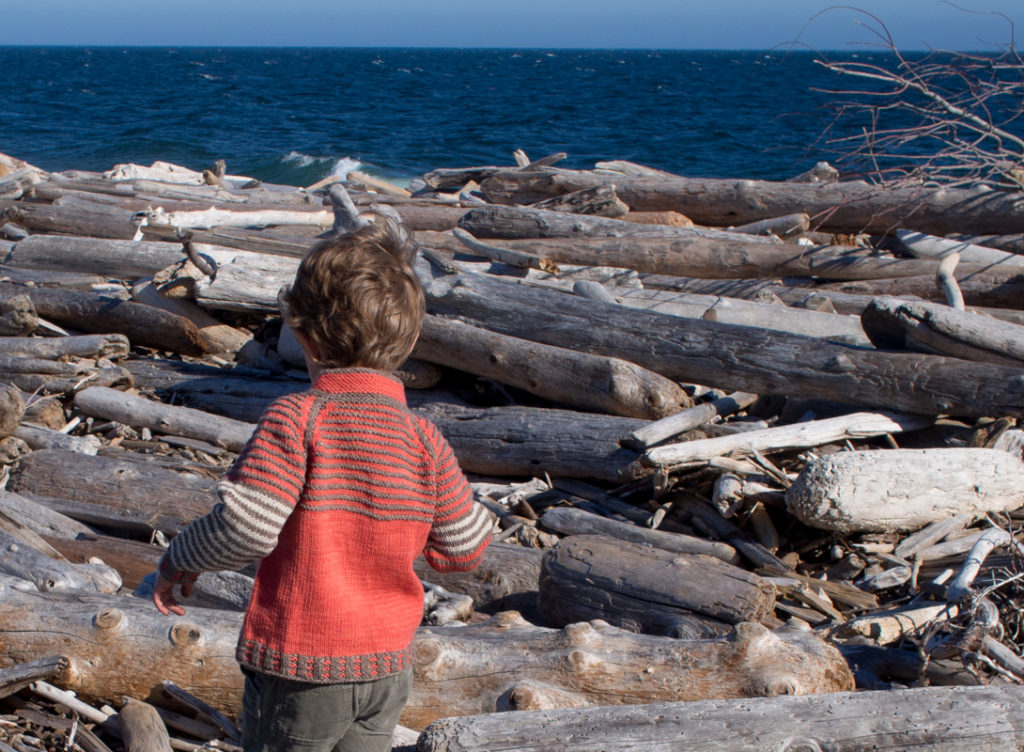 This sweater began as a single skein of Sincere Sheep's Cormo Worsted (colorway Hester), bought especially for him because it's his signature color and it's Cormo and I couldn't not. I thought I'd make a hat. But by then I knew last year's pink sweater wouldn't fit him long and I thought I'd just see how far I could stretch that one skein. Stash diving produced a bit of this and a bit of that: the precious remnant of my Clara Yarn CVM/Romeldale (that's the white), a skein of De Rerum Natura Gilliatt (grey-brown). I had a partial ball of Sincere Sheep Shepherdess in the same colorway left from Ada's Chicory cardigan of two years ago, and a handy thing that was for finishing the right sleeve and the cuffs. I knit the yoke about three times. I can't tell you why, but top-down is not my favorite construction and my reasoning goes all to pot when I'm trying to work out the size of the sleeves. I knocked all the pattern numbers down by percentages, but the plain fact is that little boy shoulders and torsos are not proportionally much like man shoulders and torsos at all, so I fudged it with the seat of my pants. Or something like that. The sleeves are still a bit wide at the top, but this yields the benefit of making it much easier for him to dress and undress himself. Stephen didn't put a tunnel pocket on his design, but I'll bet he wishes he had.
My model was not very cooperative about holding still: "I'm too busy climbing!" And my battery died, so this is all the evidence of the sweater in pristine condition. Now it smells of campfire, having seen my boy through his very first toasted marshmallow, and I'll probably be picking grass seeds and who knows what else out of it tomorrow. And that's exactly as it should be.