About six weeks ago I got my greedy little hands on a truly unique yarn called Flock, 1st Edition. It comes from A Verb for Keeping Warm in California, and like everything else Kristine Vejar does it's clearly the product of a lot of thoughtful intention, community effort, and love. This fingering-weight wool comes from three California farms and is a blend of Cormo, Corriedale, and Targhee. Some of those critters had grey-brown fleeces, and rather than blending the white and the colored wool evenly, Green Mountain Spinnery added the colored fleece into the mix only sporadically. The resulting singles yarn has long color changes, some fairly abrupt and others more subtle, so the knit fabric shifts and stripes in a wonderfully organic way. My two skeins were the Bandana colorway, dyed with madder. I found Flock completely addictive. The hand is soft and dry, but you can sense it's a bit more durable thanks to the Corriedale. It makes a light but warm sweater that was put to the test this morning, when the temperatures had dipped to the low 50s. Sadly, the sweater was not for me, but it's one of the most pleasing things I've ever made and I'm oh so tempted to replicate it in my size.
I'm always drawn to the purl side of fabrics with variegated color, and as soon as I saw how Flock was going to knit up I knew I had to go for the reverse stockinet this time. I happened to be hatching this project just as I was writing the copy for the Brooklyn Tweed Fall collection, and I fully confess that Jared Flood's Fletching pullover inspired the addition of the decorative vertical columns that punctuate the purl ground on the torso and sleeves. I knew I wanted to shift the texture for the yoke, and the pattern that leapt off my needles owes more than a little something to Norah Gaughan's Bannock coat. Norah used the lateral chain element, which is made by purling two stitches together and then purling the first again, in a previous design for BT and I've been a little fixated on it ever since. All these ingredients went into the stew and out came this bitty sweater, which just worked despite my shamefully minimal swatching and liberal use of the eyeball in place of actual math. Sometimes the knitting gods are especially kind. And my puckish little fellow is more than pleased with the results, although you can't quite tell from his suave expression here. I can't decide if he's channeling Sean Connery or James Dean, but I had a good laugh when I uploaded the photos.
Luckily I get to keep him wonderfully small and silly for just a little while longer. I don't think he's going to run off to Hollywood just yet: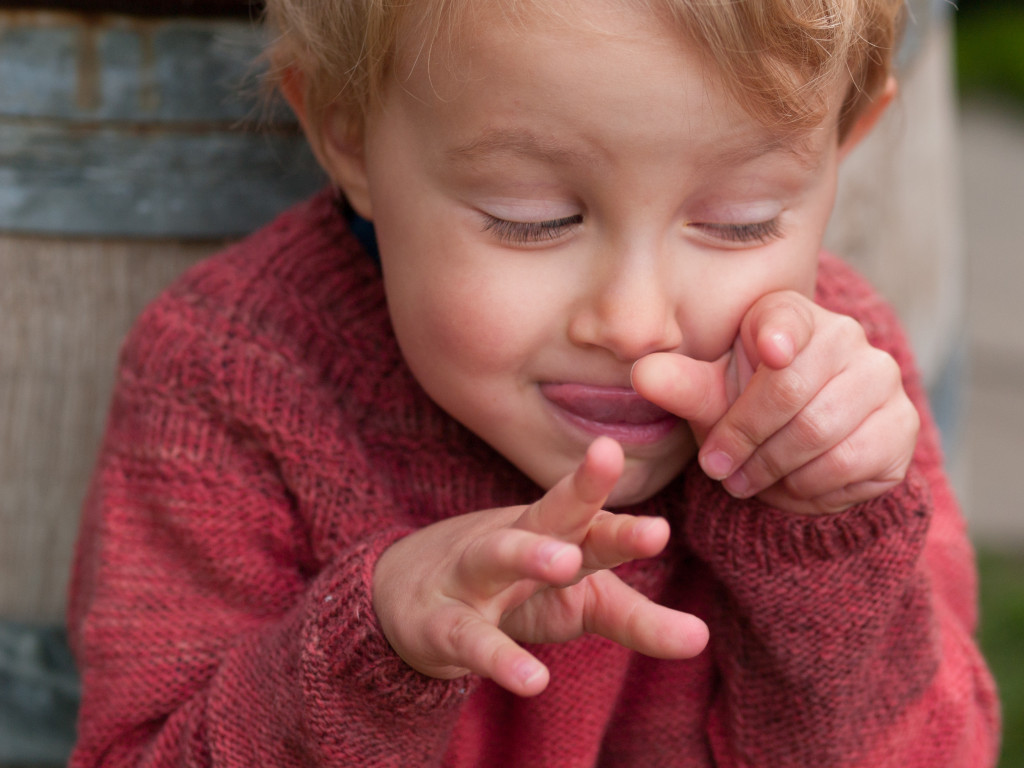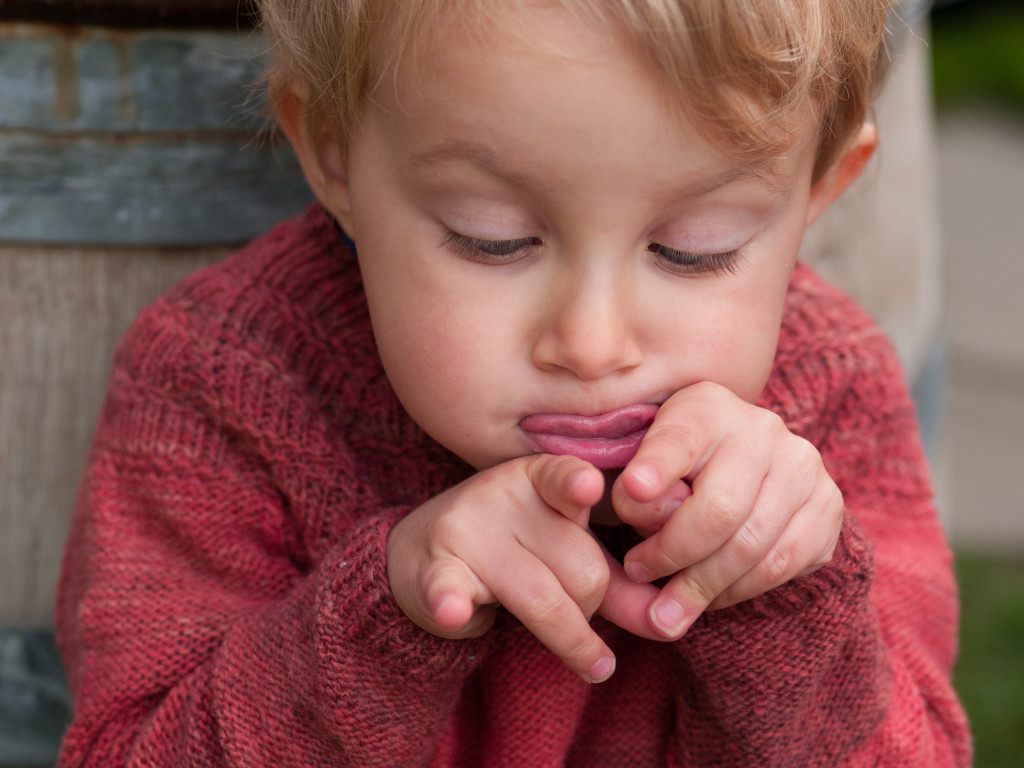 Now I'm wrestling with whether or not to try to write up this pattern. The difficulty is in working short rows across the yoke patterning. It's not a big deal if you can fluently read your knitting, but it's hard to describe and I did have to monkey a bit with figuring out how to work the little columns of entwined stitches from the wrong side. I spent some time trying to think of ways to switch back to reverse stockinet below the neckband, but I'm so darn satisfied with the way the shoulders come to a point and the bands of single rib stack perfectly with one more tier on the back than on the front. Maybe it's meant to be a sweet little pink singularity. But you should definitely go buy some Flock while it's still available and knit up a totally unique garment of your own. I know I'm going to be helpless when Flock, 2nd Edition appears.