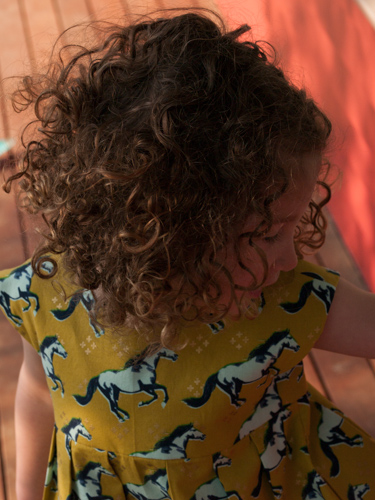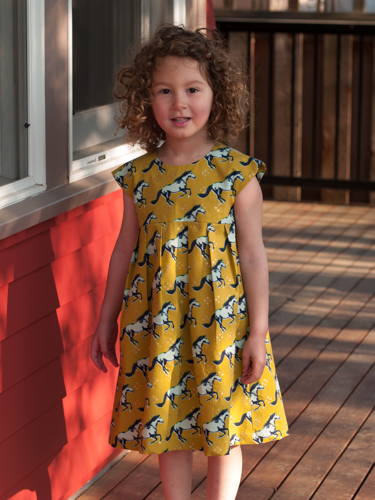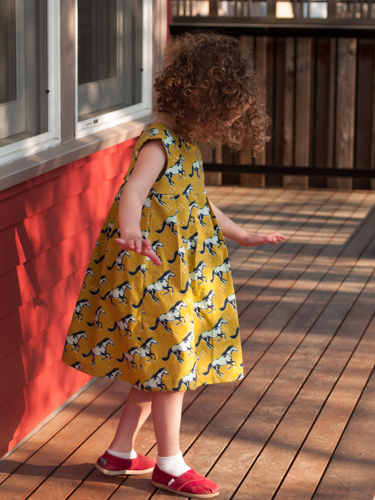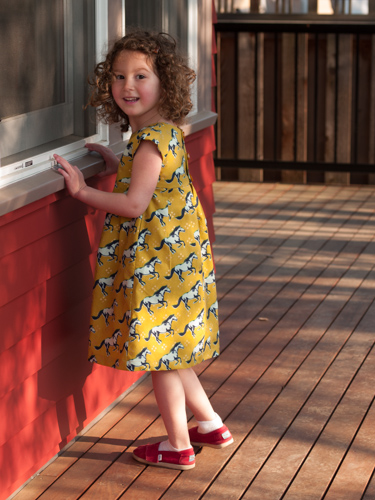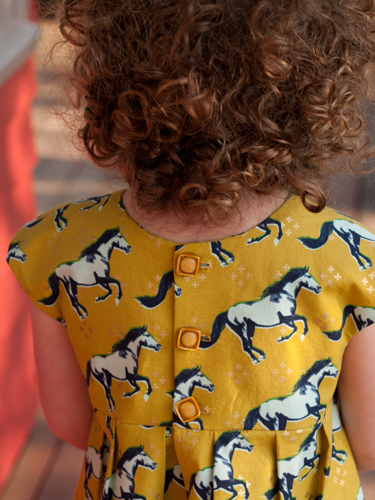 My favorite sewing pattern in the world, Made by Rae's Geranium dress, worked up in size 5 (oh, how did she get this big?) in Melody Miller's most excellent mustang fabric for Cotton + Steel. Can you tell from the photos that the little star clusters are gold foil? Ada and I had some discussion about what those shiny plus signs might signify. Exes? Crosses? "But not like the cross for Jesus, right? Then it would be like Jesus riding on all these horses. Wait, did God or Jesus ever ride on a horse when they were alive?" Thank you, genetic lottery, for giving me a daughter with a busy mind and also the coloring to pull off mustard yellow, since I cannot.
I made the same version I sewed for my girl the last time, except that I skipped the notched neckline so as not to cut into the head of that mustang I tried so carefully to center on the bodice. Ada, who has excellent instincts when it comes to such things, chose the perfect vintage buttons herself. (Seriously, I let the kid pick our carpet and counter top colors. She's that good. And she's really firm about her choices. There was to be no question of substituting "wild rice" for "shiitake" Caesarstone. I had five or six carpet samples to consider, but she went straight for the Acadia "Flint" on the argument that it was best against the bathroom tiles, and she was dead right.) Since these have a shank, I added backing buttons inside to protect her from bruising when she lies down. We were lucky enough to find some in the random jar at Modern Domestic that precisely match the pale blue in the fabric.
It's really hard to believe I'm going to be printing out that top photo to put on the bulletin board introducing all the new children who've been admitted at my school. My school that will now be her school. She's not five until the end of July and will be one of the youngest in her K-1 class, but this kid was born ready. Ride on, sweetheart.