This title is not, I am happy to report, a description of my nasal passages. My timely application of tea, wool, and Richard Armitage seems to have done the trick and the cold is at bay. No, I'm talking about what the itsy bitsy spider climbed up. That song was Ada's favorite as soon as she could talk, and now it is also part of her favorite dress. She obliged me by posing for some pictures, so today I can show you one of my crafty triumphs of the summer: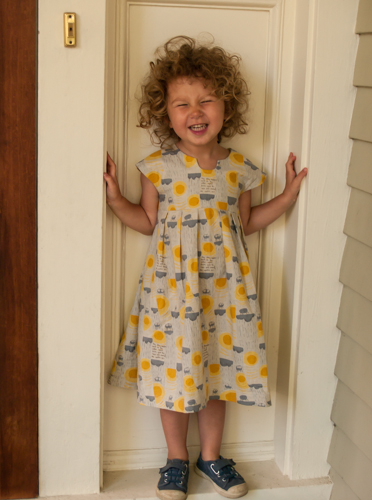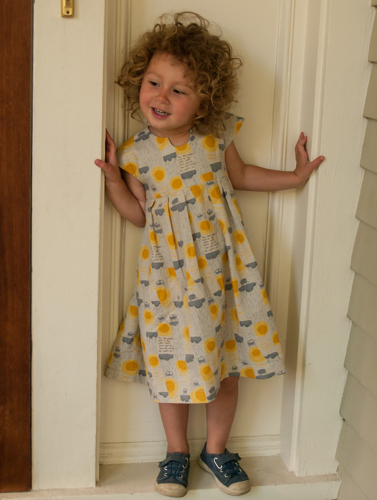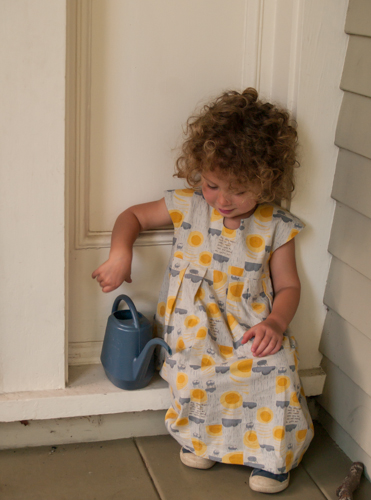 Can I tell you how much I love the Geranium dress pattern? I eyed the lovely versions appearing on Rae's blog all winter and spring. Then I stumbled across the Heather Ross Nursery Versery fabric (psst… it's on sale at that link!) at Cool Cottons and I knew what I had to do.
For me, the cutting out of the pattern and the fabric is the big hurdle to sewing. Once I get to sit down at the machine, I can steam along, but I need a push to get past that initial block. So I set myself the task of making not one but two of these dresses and finishing them before we went to New York for my niece's birthday. Lucy got the really special treatment: Nani Iro Little Letter cotton lawn. My own child is not nearly pretty enough for this fabric. Don't get me wrong; I think my girl is gorgeous. But Ada's is a vigorous, uncurried beauty. Single gauze, ruffles, and daintiness in general are not for her. Lucy, on the other hand, has an impeccably curated wardrobe and submits gladly to hygiene and adornment. If ever a three-year-old could wear beautiful Japanese cotton lawn, she's the one. This stuff was so lovely I could hardly bear to begin with it. I pictured it slurped into the guts of my sewing machine and mangled irretrievably. But fear has no place at the workbench and it does no good to make anything too precious. I held my breath and stitched. And it went beautifully.
Lucy got Version A, with the ruffled sleeves and the gathered skirt. (The fabric demanded it.) I wish I had a picture for you, but that didn't happen while we were in the city. Ada got the more structured Version B, with the cap sleeves and the pleats and the pockets—definitely the pockets—which suited the cotton/linen blend of the Nursery Versery. I considered the sleeveless version, but I'm glad I went with the cap sleeves. I was afraid they might overwhelm her little shoulders, but that wild mop of hair balances out pretty much any width you might add to her silhouette lower down! Both girls got the 4T size in the hope of stretching the wear through next summer as well.
I never felt beyond my depth with this pattern and found it clear and educational. The one thing I'm left wanting to know is how the heck you're supposed to finish a curved seam around those pockets. I opted for pinking shears because I couldn't think of a better way to do it. But it felt so much more satisfying and professional to flat fell the skirt seams on Lucy's dress. (Actually, I had to unvent something between a flat fell and a French seam to solve a disaster. As careful as I thought I was being with that delicate lawn, when I went to trim one seam allowance to set up the flat fell, I cut both layers for several inches. Ack! So I trimmed both allowances to 1/4″, cut a new strip of 3/4″, and stitched it on along the whole seam. Then I folded it over the original allowances, pressed them down, and edge stitched the resulting sandwich.) Help, sewists: what should I do about the pockets on the next one? Because there's sure to be a next one.