By Sarah in Ada, Island, Jolyon, Mothering, Outside 2 Comments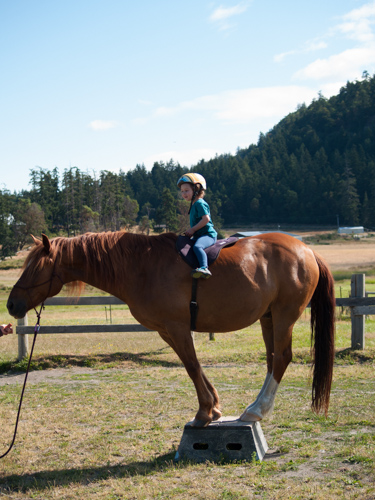 When we're up home, as I will always call my childhood island, the thing my kids are most excited to do isn't to play at the beach or take the ferry. Apart from seeing their grandparents, they most want to go to Charly's and ride horses. This is where I spent a staggering percentage of my youth: in these rolling fields, in this old orchard, up in those woods. It's no fancy riding stable, only a simple corral and a rustic shed to house the tack—if the door is latched you simply scramble in by the glassless window—and a couple of shed roofs to tie the horses under for shelter while grooming them. The barn swallows loop in and out. The paddock is fenced with branches pruned from the fruit trees and dropped from some of the big maples over many years. Here I learned how to stick on a horse and also a great deal about kindness, empathy, awareness, and balance. Charly is mostly retired and doesn't teach many young riders now, but she has open arms and bowls full of cherries and strawberries picked from her garden for any of her pupils who find their way back with fervent little starry-eyed equestrians in tow.
I'm chuffed at my girl's easy way on a horse. She's timid, or at least cautious, about physical risks, but she can't wait to get aboard a great tall horse and trot around, keeping her head up and her back supple. No hands? No problem. And she's attentive rather than assertive, which I like to see in a young rider.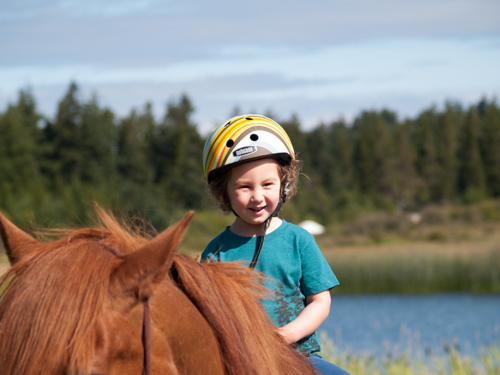 Jolyon was not to be left out. His face got a little scrumply when he learned he couldn't ride Chocolate, the pony of my first adventures, or Koprina, the fiery half-Arab mare who figures in so many of the stories the kids clamor to hear again and again. But he reconciled himself to Not Chocolate and sat proudly and independently astride.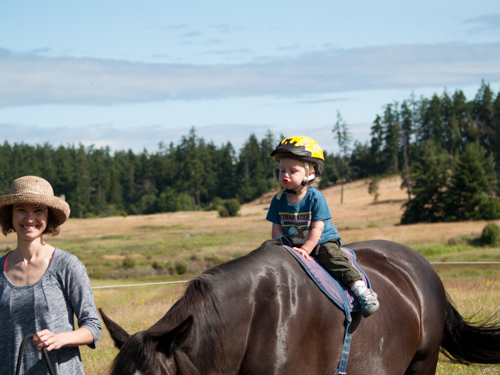 Kisses to ask her to walk on… and one for Mama, too.
It's good to circle back and savor old pleasures through new experience.
By Sarah in Ada, Jolyon 4 Comments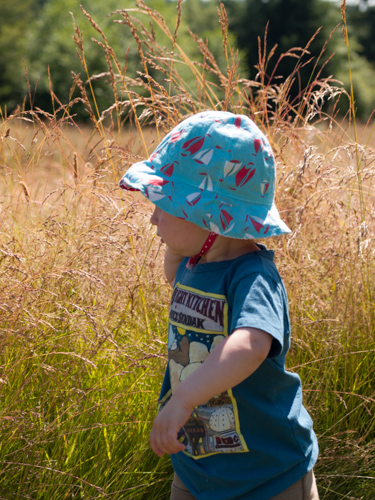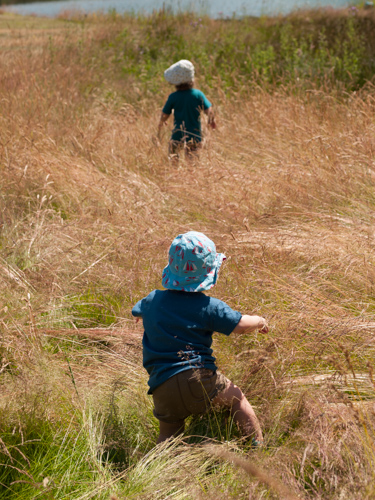 They never just opt for the mown path, these two. A sea of grass so tall it stirs the sky overhead? In we go. I like that about them. Luckily the little one has his trailblazer, his native guide, his St. Bernard come to rescue him from the drifts.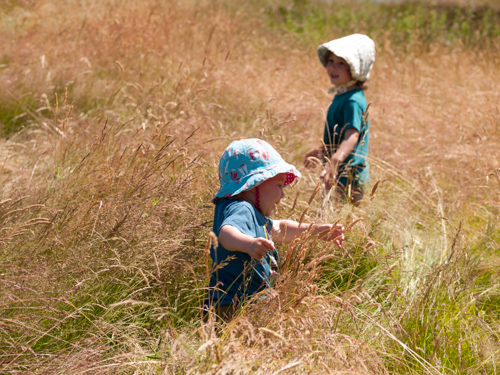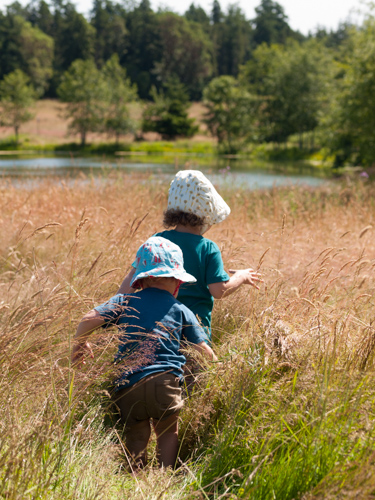 She's a stand-up sister, this one. As I write it's half an hour after bedtime and she's invited him into her bed to read nursery rhymes. I can hear her teaching him how to clap "Pease Porridge Hot." It's too charming to interrupt, even though I should really go in there and sling a little thunder. I hope they'll carry some imprint of these early days together even if they don't recollect anything distinct. Warm evenings barefoot in the clover outside, picking pole beans and eating them before they reach the table, calling back to the fledgling nuthatches in the apple tree, picking most of our sweet neighbors' berries, lying feet to feet in the hammock or taking turns to swing each other. "Ada! Cookies!" Jolly proffers two fistfuls of bright geometric foam tiles. She's wriggled under the kitchen island for Hide and Seek, but she stretches forth an arm to take them. "Oh man! Jolly made me cookies!" "Pee-TEND, Ada. Not real. Not eat them." Oh, but that's the real stuff, isn't it? Boxing up the kitchen before demolition guys turn up to begin our addition and writing grant applications and grading patterns should also be real, but shhhh. I'm pretending there's just this tranquil summer sweetness for a few more fleeting moments.