It's been quite a while since I've done a good old-fashioned Finished Knit post, eh? Let's take this knitting blog back to its roots. We spent Thanksgiving with my parents and managed a walk up on beautiful Mount Grant (though I prefer its other name, Lawson Ridge) with Dad's camera. The battery gave out after just a few snaps, and I am making unforgivably awkward faces in most of them, but we'll go with what we've got. I give you Cordova, Michele Wang's scrumptious textural pullover from the BT Winter 15 collection.
Sassy fashion pose purely accidental. Small photobomber at least wearing a handknit.
I cast this one on back in January; the pattern release coincided with my acquisition of a sweater's worth of incredible Elsa Wool Cormo and they just had to be together. The knitting was always delightful, but not without the kind of hiccups one tends to encounter when one's gauge isn't spot on. (More details on that in my Ravelry notes.) I think I knit one of the sleeve caps four times and the other one twice. In the end, all my tinkering paid off and I've got saddle shoulders that fit perfectly.
I just love Michele's eye for combining cables and textured ground stitches. There's so much luscious depth to this fabric. It's warm, but not too heavy in the woolen-spun yarn. The Elsa Wool held its gauge after a wash, not stretching out at all, which was my worry when I tried on the seamed sweater before blocking and already loved the fit.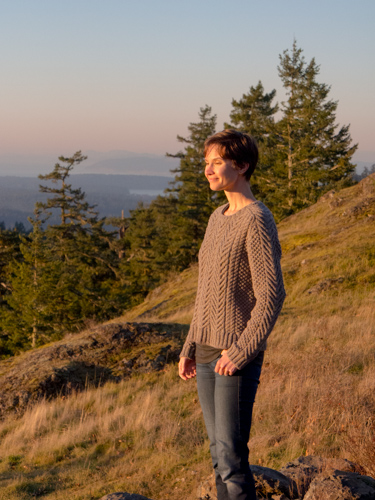 This photo is one of the awkward ones, but it's good of the sweater so you get to see it anyway.
I've worn my Cordova five or six times in the week it's been finished. It's that cozy, and it goes with pretty much everything. And since the temperature took a plunge just as I finished blocking it, the timing couldn't have been better. We had almost a whole week of cold, clear weather, a rare gift in this damp part of the world. (Our weather forecast now shows rain stretching on forever into the distance. Sigh. I don't mind rain, but I could do without an inch and a half of it and strong winds on the day we were planning to go choose a Christmas tree.)
With Cordova finished, it's time for a flurry of gift knits that I won't be able to post here. December is upon us. The tomten has already delivered peppermints and spiced apple tea to the children. My five-year-old has only two weeks of school this month and I'm storing up crafting ideas for the long vacation stretching ahead. She's very keen on decorating, so I think I may set her to stringing cranberry garlands. Help me out here, friends — what other elving projects have been successful for your little ones?