I've got a new favorite dress pattern for wee lassies! It's not quite on the level of my affection for Geranium, because Geranium has that nice lined bodice and — if you flat fell the side seams the way I like to — no scruffy seam allowances left over inside, and I do love a tidy finish. Merchant & Mills' Skipper dress doesn't have that feature, but makes up for it with an adorable sailor bib and little cuffed sleeves. I keep hemming and hawing about this company's adult patterns, unsure whether I could pull off their oversize sack dresses without looking like a frump in her nightie (and not a nightie my husband would fancy) and yet strangely drawn to them, especially when I see examples like this. I might be tall enough to carry off this look, but I don't have quite enough spare time for sewing to test the waters. Sigh… maybe next year? Hahaha.
Anyhow, little girl dresses come together more quickly, and if they're oversize now that just means they'll fit longer! (It didn't actually occur to me to check whether kids' sizing is the same across the pond. I don't know why I assumed size 6 would mean for a six-year-old girl when my own size basically doubles in translation.) Anyhow, the size 6 is going to fit my daughter until she's at least eight. I made one for her birthday in a wonderful blue ikat, and since I already had the pieces traced and cut, I went ahead and made another to send off to New York for my niece's birthday last week.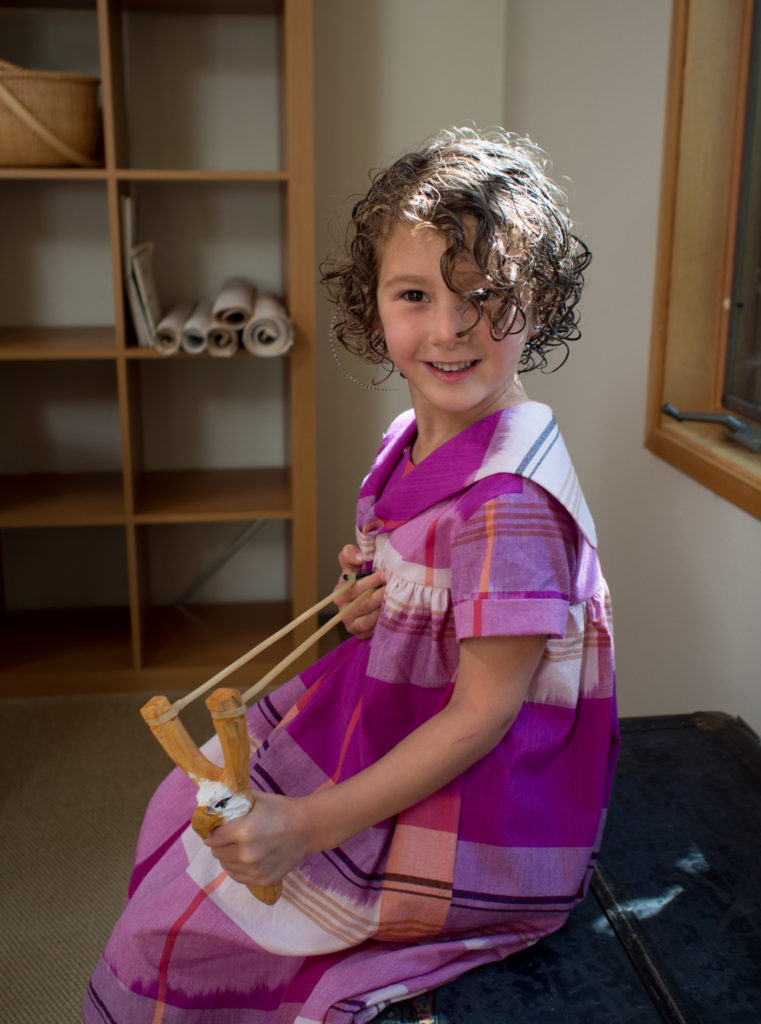 (I love that Ada wanted her brother's slingshot as a prop. This looks like a dress you could make some mischief in.) The fabric is from Anna Maria Horner's Loominous line. (It's Big Love/Candy, sold out in Anna Maria's shop but still available in a few other places if you act fast.) It's got a lovely soft hand, lighter than quilting cotton but not see-through or finicky to sew in the least. It needed a bit of coaxing to lie flat with the selvedges matching so I could cut it precisely. You can see by the seam in the picture above that I didn't quite manage it perfectly, but oh well.  I am in deep smit with those not-quite-predictable stripes. It's like madras and ikat had a beautiful baby. I was choosy about laying out the pattern pieces to make the most of my favorite bits.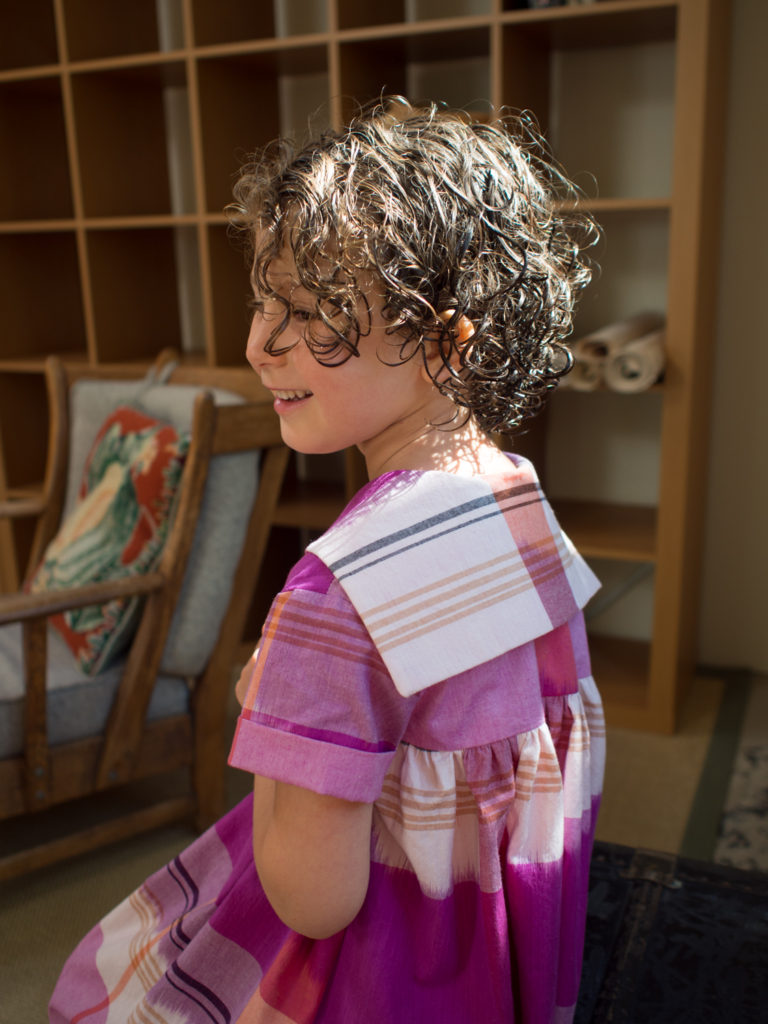 Apart from my quibble about the unlined bodice and lack of pockets (see below), I really like the details of this dress. Merchant & Mills deserve an award for their pattern layout — extraordinarily clear diagrams often cleared up any confusion I was having about the directions, but those were quite easy to follow as well. I understand about layering seam allowances now! I did manage to sew the collar on my first Skipper upside down, but that was my own fault for sloppy reading. This time I ended up reversing the little triangular flap that snaps the fronts together, but no matter.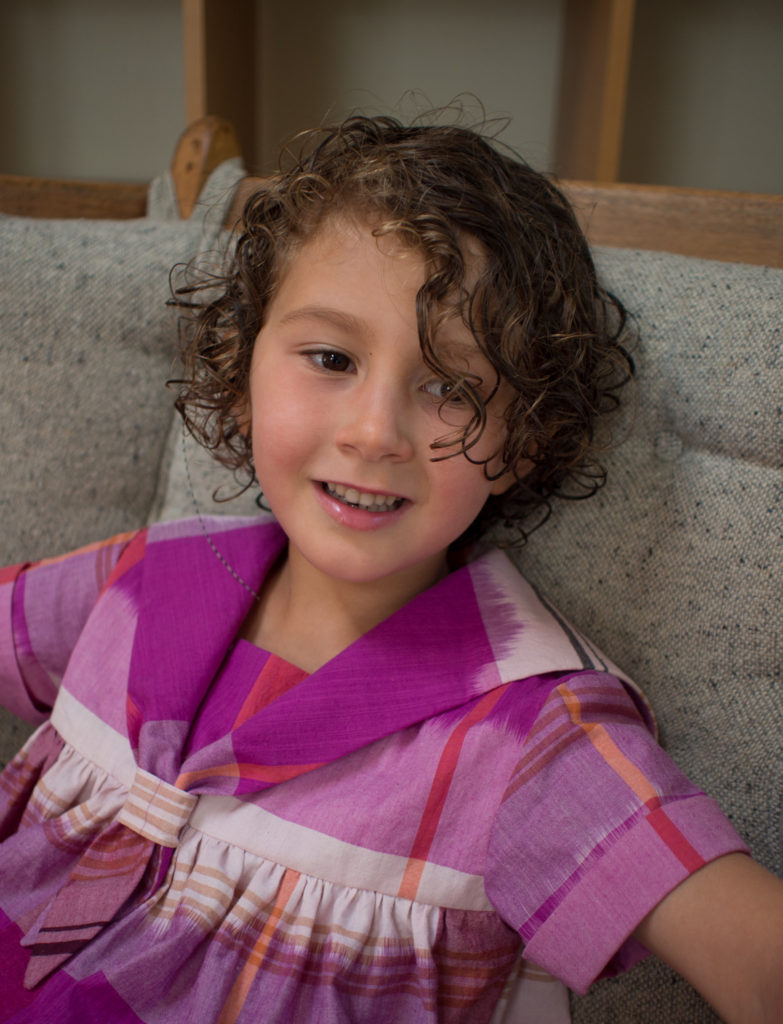 One thing this dress has going for it that Geranium doesn't: my kid can put it on and take it off all by herself. There's one little snap hidden beneath the collar that opens the front enough to slip over her head; no back buttons squelching her independence! But I had to borrow the Geranium pattern's side-seam pockets and add them to Skipper. Six-year-olds need pockets, full stop. This 43-44″ fabric just barely had the extra space left over to add the pockets in one piece, but of course I could have patched on an extra scrap.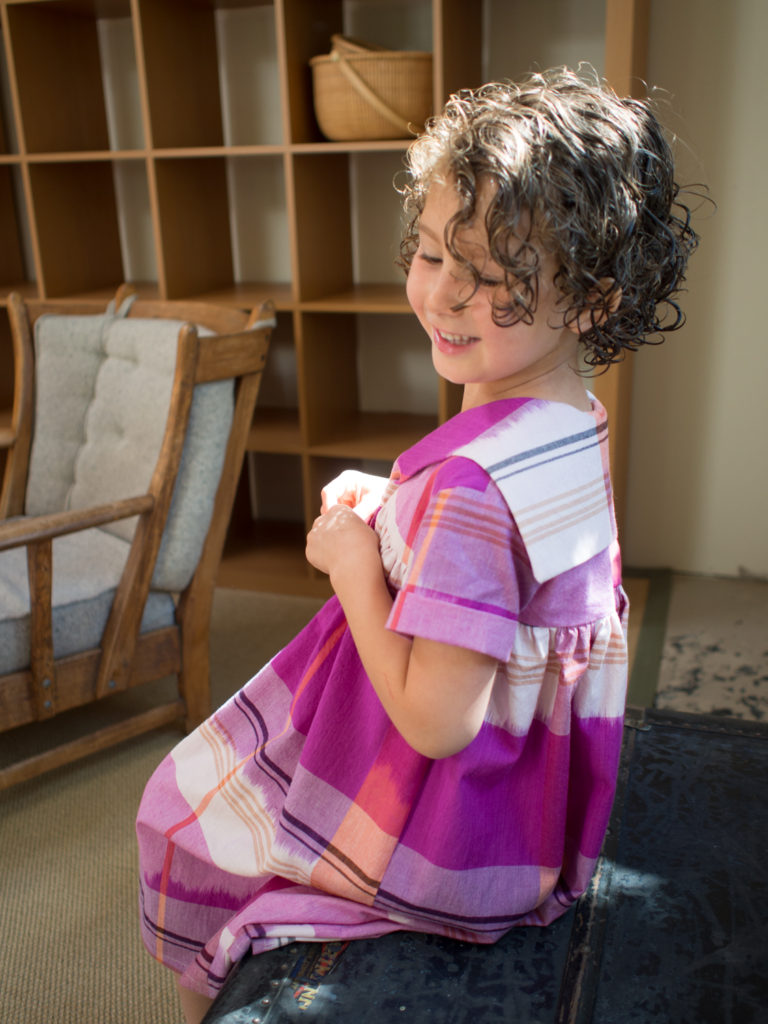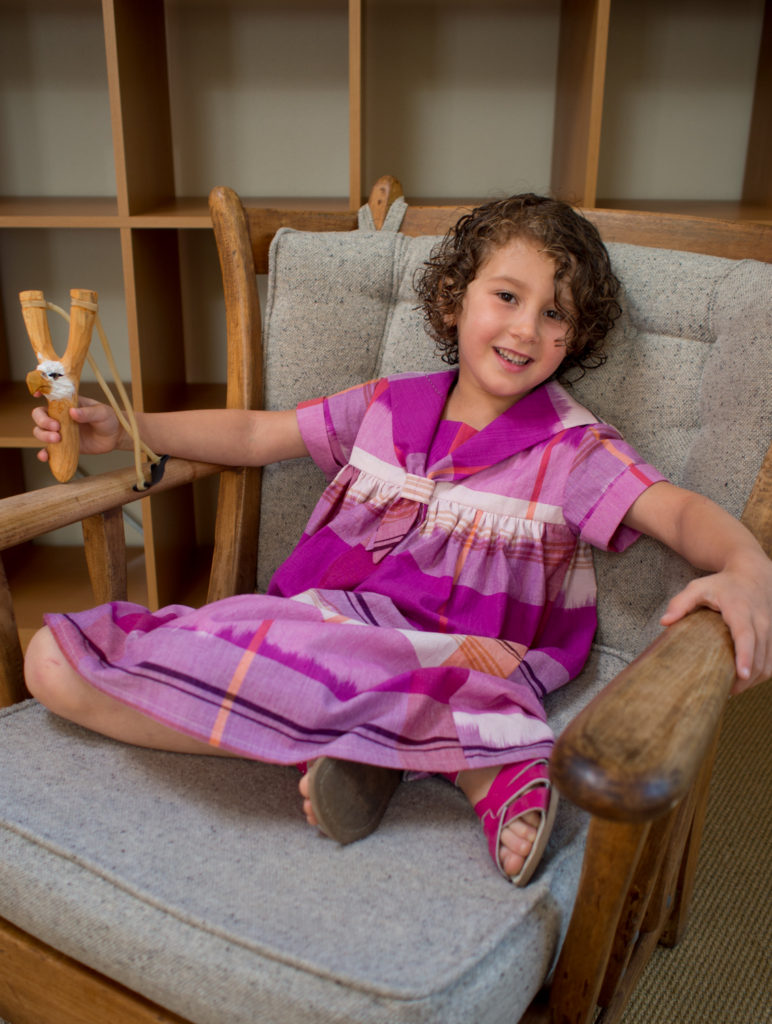 Golly, that's cute. Next up: a Tendril dress for me! I am somehow going to find time to sew on the darned bias facings, stitch up the front of it for the resist, and dip the thing in an indigo vat before the week is out. We've been learning to build fence and it's taken up all our time and energy!