Pattern: Imagine When, by Joji Locatelli
Yarn: Swans Island Merino Fingering in Indigo (note mine is a far lighter batch than their example online)
A Christmas gift for my mum, cast on en route to Bristol, England in August. Let's blame jet lag for the fact that I misread the instructions and my shawl has twice as many holes in the first segment as the designer intended. Mum won't mind. And how many lace shawls have ever been knit on the touring bus of the Gloucester rugby team? (It isn't smelly at all. It has comfortable seats and wi-fi. I would ride that bus anywhere, anytime.)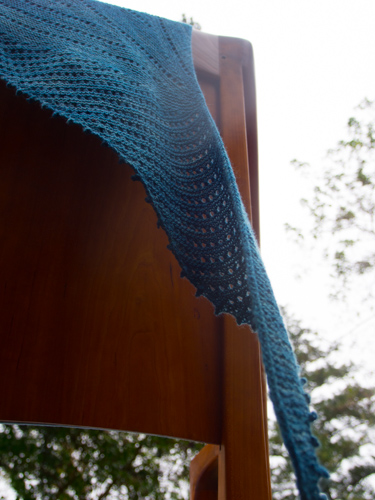 User error aside, I loved this pattern. The knitting was just the right blend of motoring along and doing something interesting. I used yarnover short rows instead of the given method and it came out fine. I'd love to knit another for myself, maybe in Bristol blue.
The yarn is fabulous, too. I'd hesitate to use it for garments that will see a lot of friction, but this light fingering is divine for airy shawls and the generous put-up covers you for practically any small shawl pattern. (Good thing I have leftovers, because during this photo shoot I managed to get a drop of pitch on the poor lovely thing. I did my best to remove it with dish soap, but I stopped rubbing at it when the yarn started to look a little distressed and there's still a wee stiff spot. I think I'll snip a thread and reknit the couple of stitches that were affected.) The indigo dye does turn your fingers blue when you're knitting, but I didn't see any color in the bath water and there was no transfer to the towel I used for blocking, so have no fear.
(Yes, I tossed it casually atop the Usnea beard lichens just because I liked the lofty textures and the colors together.) This marine blue is perfect for my blue-eyed mother and I hope she'll enjoy wrapping it around her neck when she's up too late typing endless minutes for school board meetings or dressing it up with a nice pin when she goes to the theater.