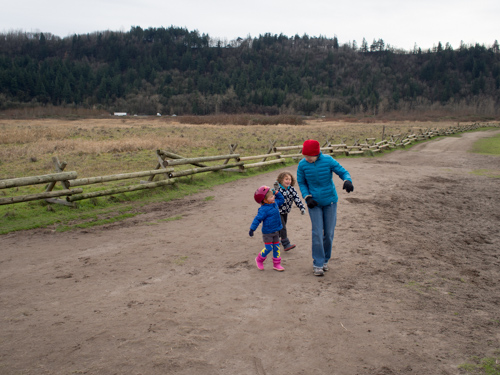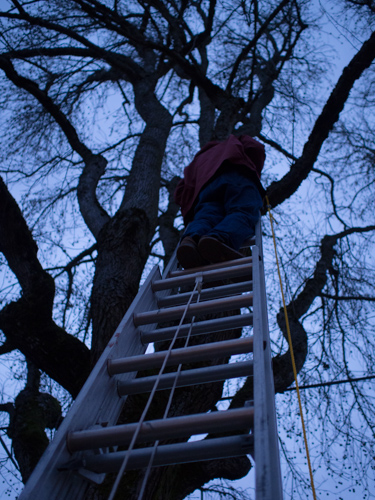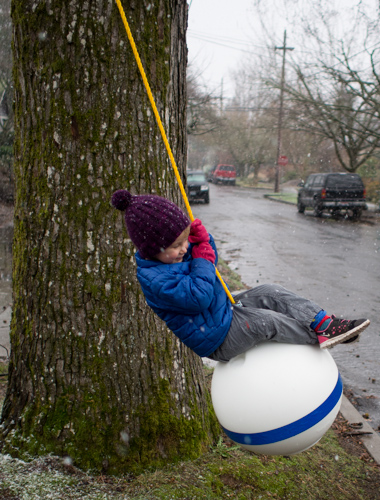 On this final day of Winter Break—extended by 24 hours, thanks to a surprise ice storm—I'm watching puppet shows and Waltzes of the Flowers. (The children received many wonderful gifts, including the buoy swing shown above, but nothing made a bigger splash than a set of colorful tutus, which now feature in daily impromptu ballet performances. Just the thing for the indoor exercise we've desperately needed during the rainiest month EVER.) We've had lovely family visits, many games of War and Solitaire in front of the fire, a little bit of snow, a lot of cookies, and—best of all—whole luxurious days of unscheduled time. A fair bit of knitting transpired, but it was mostly hats and gloves and they were mostly gifts and only this purple pom for Jolly ended up in front of the camera. It's made of Socks That Rock Lightweight in the color Morticia held together with Rowan Angora Haze. The STR swings from black to magenta; the Angora Haze is a solid plum color that matches the midtones and I was delighted to discover how effectively it muted the variegation. The angora also makes the hat ever so soft and cozy, of course, and this mother is pleased that her boy will agree to keep it on his head. I'm going to try the same experiment on a sort of muddy rainbow skein that Ada chose, pairing it with an ochre gold—although she's just informed me that what she'd really like is a hat based on the yoke of my Flight sweater. She wants bright colors—leaf green, violet, pink or orange, yellow—with "the birds" in white and I'm intrigued by the design challenge of blending these to create an entirely different effect from the original browns! I think I've got Loft leftovers enough to pull it off and I've been using Brooklyn Tweed's new online color comparison feature to dream up the right color run; Sap-Plume-Birdbook-Camper-Hayloft looks promising. Oh, and a pompon! Little children dig pompons the most.
2016 looks like a big and busy year for my little family! I'm kicking it off with a bit of self-indulgent insta-knitting: Thea Colman's Stillhouse Vest. Mine's in Hematite Quarry and it's halfway done already, thanks to a couple of car trips and an evening of Sherlock. But next on the needles is something truly spectacular. More on that very soon!
Wishing every one of you an invigorating plunge into new possibilities or kindly tailwinds as your soul requires in this new year. Cin cin.