When I finished knitting the Haro crescent, I had extra yarn. Really quite a lot of extra yarn. This gives a knitter some flexibility: if you like a deeper shawl, you can merrily add extra repetitions of the Fir Cone section. Or you can work the edging chart a few more times. You've got plenty of runway. But I wanted a narrow shawl—a scarf, almost—just a little something around the neck for adornment and a bit of coverage for bare shoulders in summertime. And all that leftover Brooklyn Tweed Plains was really giving me the eye: use me, dummy.
Plains is special. There isn't much of it in the world and there won't be more, and for many folks it's an indulgence to buy yarn at this price point. So I was feeling guilty about writing a pattern that require two skeins but uses only a little of the second. And I hatched a plan.
Now there's a matching cap. It's a free pattern, because I like to publish at least one of those per year in gratitude for the generosity of the worldwide knitting community in sharing wisdom, techniques, and encouragement. Like Haro, the Fir Cone Lace cap begins with a curvaceous short-row crescent in garter stitch and then breaks into a simple openwork pattern.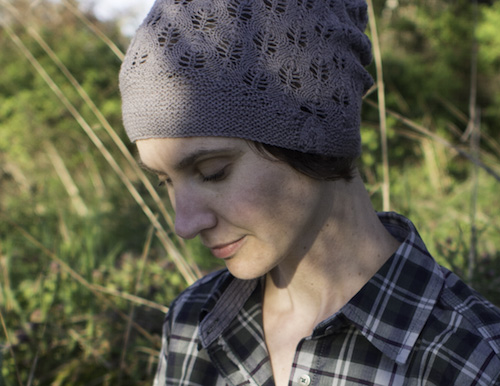 Unlike Haro, the cap is worked in the round. To avoid a jog in the garter stitch, there's one jaunty little fir cone placed within the brim itself. I initially thought I'd wear it with that wee detail at my temple and let the garter crescent fall asymmetrically to the side, but found I like it more centered on my forehead. (And please do excuse the fact that these photos look like I'd just spent three days in bed with a fever. I'd just spent three days in bed with a fever.)
Since I had all that yarn to play with, I knit my cap long and slouchy. If you prefer a close-fitting beanie or something in between, the pattern contains directions for working to two shorter lengths. Plains is very springy, so I made this a one-size-fits-most in terms of circumference. The sample measures 19 1/2″ and easily stretches to accommodate my rather large 22 1/2″ noggin. If you have a small head or want to knit for a child, I'd recommend casting on 10 fewer stitches so you'll have one less repetition of the lace motif. (Your garter crescent will come out proportionally a little wider, but I doubt this will affect the fit.)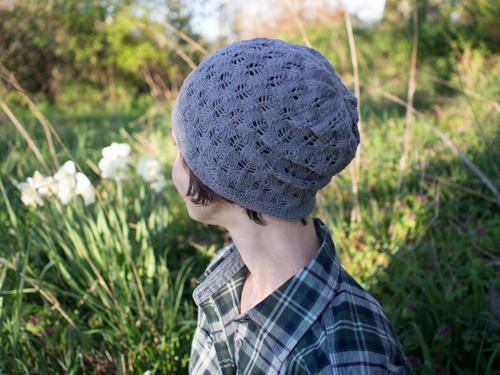 You can download your copy of the Fir Cone cap on the Free Patterns page or from the link in the sidebar. I hope you have a jolly time knitting it and wearing it. Plains is very soft with a pleasant dry hand; the cap is weightless and just a little bit warm. (Read: a good solution for bad hair days. Or no hair days.) I like mine with Carhartts under the oak trees, but you could dress yours up a bit more if you prefer.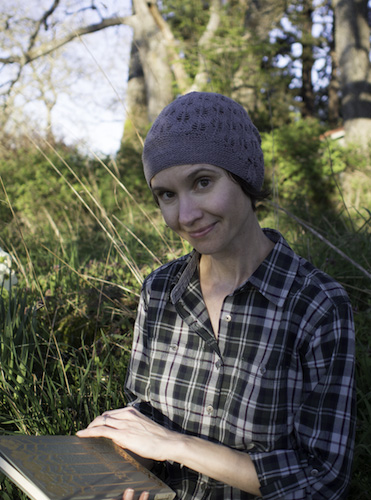 Thanks to everyone who's written in with kind words about Haro! I so look forward to seeing it in the wild as you share your versions. (Fun fact: my kids pronounce that word "virgins." I can't read or write version without substituting theirs in my head and tittering like an elementary schooler. #arresteddevelopment)