They say a watched pot never boils, and I'm here to testify that neither does it simmer, at least not when it's a giant stock pot nearly brimful of clothing and fabric yardage in a soda ash stew that I'm trying to scour for indigo dyeing. The Modern Natural Dyer says to slowly bring it up to 180 degrees over half an hour… I tried for 45 minutes to nudge it even up to 130 degrees before dinner. It wouldn't be rushed, so I'm having another go now that the kids are abed. And to pass the time I'm flipping through the results of a little photoshoot with the kiddos from this afternoon. I'm holding back the real goods for a few more days, but after I'd clicked away for awhile, my girl requested to have a try on the other side of the camera.
"I want Mama in the middle of the bed, and Jolly jumping all around her," she dictated. And this is what she got.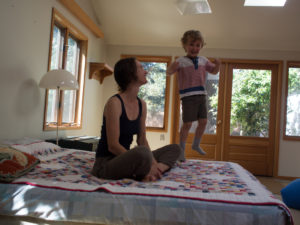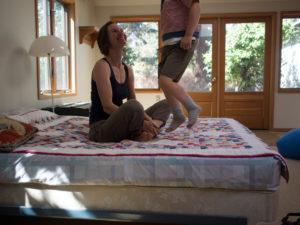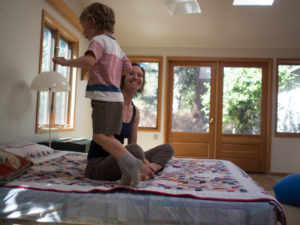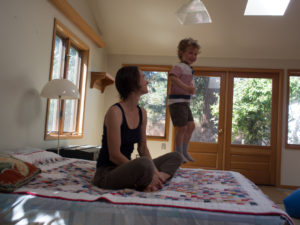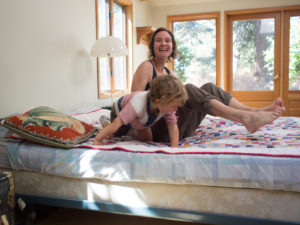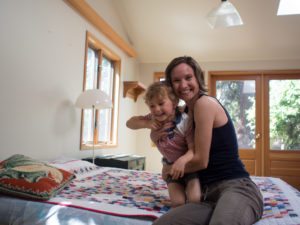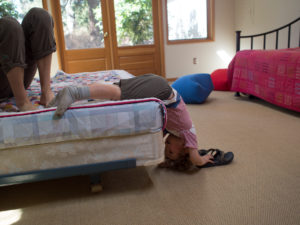 We'll work on focal length next time. But she did capture the flavor of our summer days, up to nothing and everything of consequence. Just a four-year-old and a six-year-old putting down roots in a new home, happy to spend all morning climbing trees in the orchard or prattling away over a herd of plastic horses in their shared bedroom or practicing for the Olympics (in gymnastics and three-day-eventing) on the living room rug. Not that they don't have big plans; Jolly is earnestly hauling in plums and apples by the shirtload "to can for the wintah." Today we got a kitchen scale and a lot of jars and a library card and checked out three books on preserving fruit. I've never done much canning and I'm feeling just a wee bit skittish about it, but if a girl can teach herself to knit she can probably teach herself to make jam, right?
Ada is keen to work on a gardener doll we started making out of a worn out sock stuffed with raw wool from the spring clip. It's rather a fragrant doll and she still has no arms or face. I'm helping too much and should just let my six-year-old have at her with a needle and thread and see what happens.
Temperature check: nearly 170! Getting somewhere. If I don't break an ankle clambering up the patio furniture to hang the scoured goods on the clothesline I haphazardly strung between the wisteria and the dogwood back when it was light out, it will be a miracle. But the days are warm and sunny and with any luck I'll be firing up an indigo vat on Friday. Plum jam and blue smocks for all! Don't ever end, summer.