Having leafed over into a fresh year, it's the perfect time to start something ambitious, right? I've written here before about my love and respect for Bohus knitting, and this winter I've finally decided to stop dithering, stop making it too precious, and just plunge headlong into my Wild Apple kit.
I've got extra momentum to tackle this magnum opus because I've been fueling up on Bohus research and happily immersing myself in the wonderful new Bohus book. In a bolt from the blue (the likes of which I haven't known since the day Jared Flood emailed me and asked if I'd be his copywriter!), Vogue Knitting came knocking last August with an offer I couldn't help but accept: an open-ended article on Bohus history to lay the foundation for a "Swedish Modern" design collection. I felt this was an important opportunity to tell the remarkable tale of the Bohus Stickning company, including the modern chapter of the reproduction kits. And I immediately set about seeking permissions to reprint as many pictures of the original garments as I could shake out of the bushes. Everyone I spoke to in Sweden—Solveig Gustafsson, dyer and recreator of the Bohus originals; Pernille Silfverberg, angora farmer and new bearer of Solveig's torch; Viveka Overland of the Bohusläns Museum, author of Bohus Stickning: The Revival—was utterly lovely and so very generous in sharing knowledge, providing photos, and reading my drafts. Susanna Hansson, Wendy Keele, and Meg Swansen replied to my queries and offered encouragement stateside. This month my article is in print and on newsstands!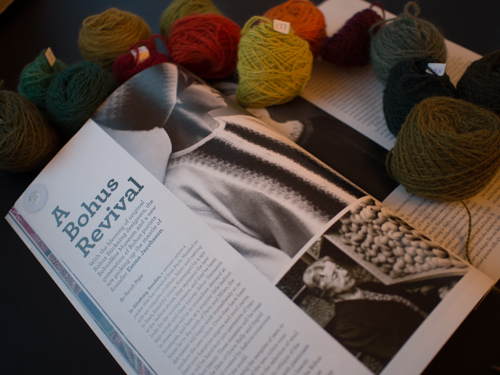 The photos you see here are of designer Kerstin Olsson wearing her 1963 design Rain Clouds (left); the model at right is wearing a version of Karin Ivarsson's The Swan (1966). Below is Emma Jacobsson in the Bohus Stickning stockroom in 1964. Both are from the Bohusläns Museum's excellent collection.
And as for my Wild Apple, I've joined in the third color—only twelve more to go! I'll be a little mournful when the yoke is complete; these tiny stitches and mesmerizing interplay of colors are totally hypnotic.
What challenges are you setting yourself for 2016, knitting or otherwise?