Back in September I contributed an offer to knit a child's sweater to the school auction. The winner was the president of the parent-teacher association, a lovely woman who does a great deal for the school, and she's a knitter herself, so I pulled out all the stops. I was in the mood for colorwork and thought of Jared Flood's Atlas design, but it's written for fingering weight. The small nephew who's getting the sweater lives in the frozen midwest, so we decided something heftier would be appropriate. I opted for Védís Jónsdóttir's Kambur pullover as a good substitute. I'd just make it a cardigan by adding a steek. I can't remember why I decided I'd also flip it upside down and work the yoke first… I must really have been jonesing for the colorwork. Anyway, it's a Kambur Inversion and I finished it at the turn of the year. Our Jolly modeled it for me.
In case you can't tell, my boy quite likes modeling and he's a bit of a clown. I should have just shot video; these are stills from a spontaneous boogie as he worked it for the camera in the parking lot outside his sister's ballet class. I had to make him take the zipper out of his mouth first. I don't know what it is with little kids and zippers, but they love them. Definitely the way to go if you can stand the extra work required to install them and finish them prettily. And boy did I finish this sweater prettily. Tubular bind-offs everywhere, including on the collar, which I picked up from a provisional cast-on. Natty applied i-cord edges to cover the zipper. And admire, if you will, this ribbon facing that conceals all the hand-sewing on the zipper itself: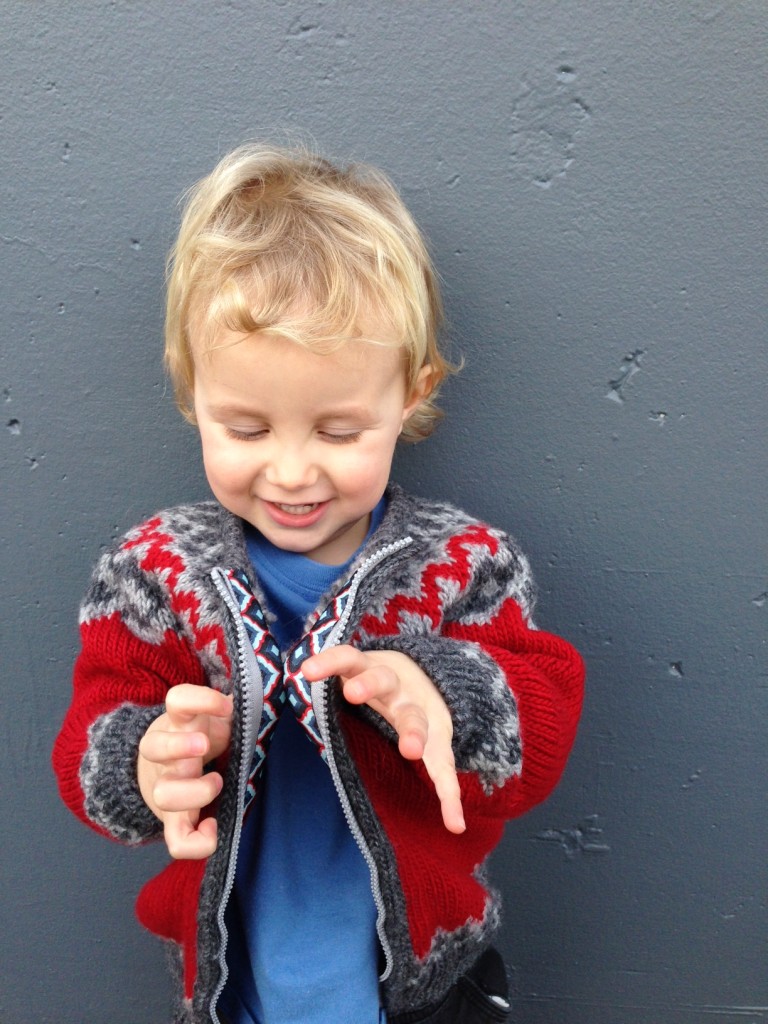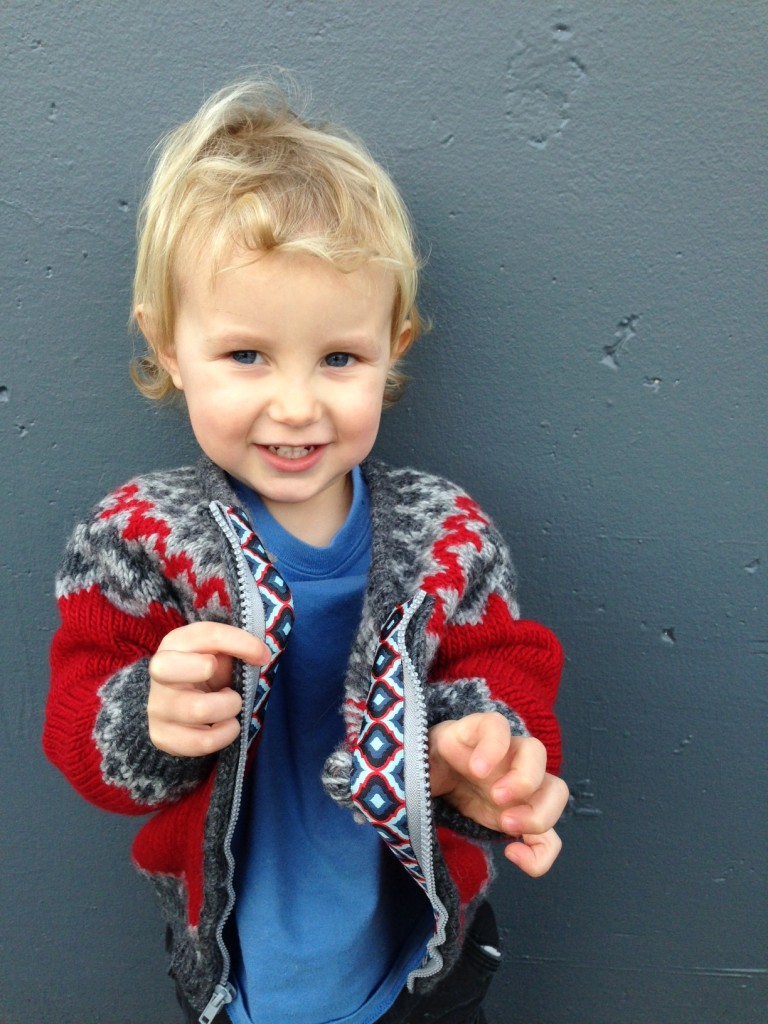 (If you follow me on Instagram (@whistlinggirlknits), you've already seen that last shot, but I can't help reposting it here. I just love the attitude.) Was it a little psycho to go to this painstaking level in the finishing of a garment for a toddler I'm never going to meet? You can say it. I know the answer. But as soon as I saw this ribbon at Bolt, matching the colors and motifs of the sweater so delightfully, I was helpless. And there's such internal satisfaction to be had in knocking it out of the park even if no one's watching. (Not that I'm quite so zen as that. I carried it around for a week and made all my local knitting friends coo over it. Plus I get to boast to all twelve of you reading here.)
The yarn is Brown Sheep Naturespun Worsted. I simplified the yoke motif to use only three colors because Twisted didn't have a fourth shade on hand that I loved with the red and grays. I could happily make another Kambur in an alternate colorway… honey ochre with robin's egg blue and coral pink and navy, perhaps? In Quince & Co. Lark, which I somehow still haven't tried? Maybe just a pullover, though. I'm not sure my zipper mojo is back at full potency quite yet.