Motherhood is not for the faint of heart. You find out what you're made of on a daily basis, whether or not you wanted to know. In my case, at least, the stuffing is not lavender blossoms and goosedown. There are moments aplenty when I don't like what I see in myself or what I hear coming out of my own mouth. I'm not going to repeat platitudes about my children making me a better person. They make me a grouchier, more impatient, more sarcastic person a little too frequently these days. But I love them fiercely, elementally. And when I cool my brain and drill in my own depths for the reserves of patience and gentleness that must be down there somewhere, I have the sense that parenting is—if I choose to accept it as such—apprenticeship to my own best self. Most of the time my craft is still clumsy. The chisel slips and gouges a mark that takes hours of sanding to repair. Once in a gleaming while, the shape of things feels just right, true and humming in my hands. I'm trying to get the knack of noticing those moments as more than just respite from the mayhem.
Yesterday I let myself nap with my small son, his comfortable weight on my chest, my sweater printing his flushed cheek with a double-moss basketweave. I could have wriggled free and settled him on a surrogate pillow, but instead I let myself be still with him. I cherished the curve of his lengthening body against my arm and breathed into his silky hair and felt his small warm exhalations against my wrist. Downstairs my own mother took over the cooking I'd begun for a casual party of friends, because she knows how fleeting this is in a way I can't and because she has never stopped taking care of me in a hundred little ways.
This Mother's Day I have a little gift to share with new mothers—or with their knitting friends, perhaps. Call it a token of my admiration for all the sisters in the traces. You can make one out of half a skein of sock yarn if you have a baby shower to attend this summer. I won't call it a last-minute gift because the stitches are fine, but I'll bet you could knit it in less than a week if the chips are down.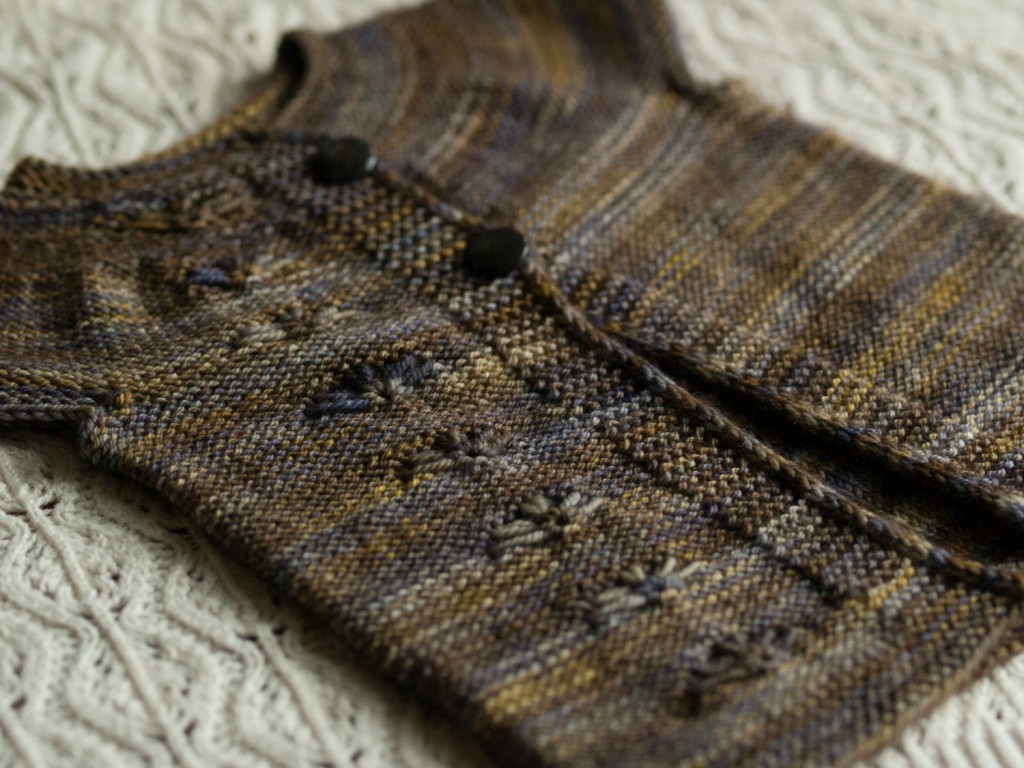 It's called Chicory and it's very wee—about 17″ (37.4 cm) at the chest, so you'll want to make it for a truly new baby. I sent this one to a sleepy redheaded bundle named Mae who's just arrived in our family. But you know what else I did? I cast on another with worsted weight wool and it's going to fit my great galumphing almost-four-year-old. Same number of stitches, just bigger materials. You can download your copy of Chicory right now by clicking its photo on the Free Patterns page.