I always looked down my nose at siblings who wore matching outfits to school when I was a kid. Where was their sense of individuality? Were their parents to blame for this indignity? I'd secretly change in the bushes rather than suffer that oppression, I told myself—not that my parents ever would have suggested their children should dress alike. We wore whatever we pleased as long as it wasn't unreasonable filthy. And yet I found myself sewing a skirt with a couple of eager onlookers.
"Mama, when you finish your skirt will you make one for me?"
"I will. What color would you like?"
"Purple. Will you make me a purple skirt? With pockets?"
"I'd be glad to."
"Jolly, you like a purple skirt, too?"
He gave me his most solemn, round-eyed look. "Ja," he said. (Because apparently he is a German toddler. He can say "yes" in the context of "yeh pleeh!" but it's always "ja" when he doesn't stop to think about his manners.) What mother could resist?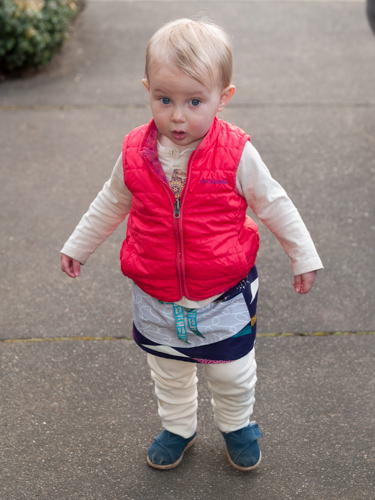 I used Anna Maria Horner's "All Set" skirt pattern, size 5 for Ada and size 2 for Jolyon. (I didn't account for the bustle effect of a fat cloth diaper, and neither did Anna Maria, so his is pretty comical in shape.) The fabric is from the talented Rashida Cole (purple) and Lotta Jansdotter (gray). Here are my skirtlings in action: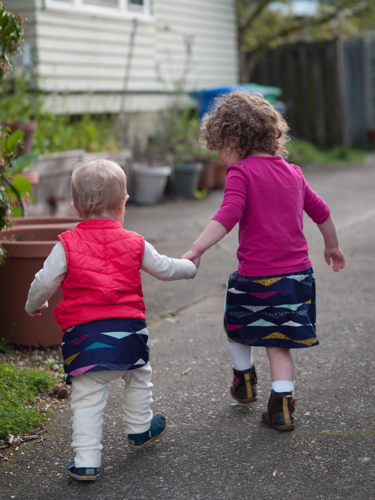 Yeah, we need to paint our garage. But it's so tough to get photos of this fast-moving pair that I didn't much care what backdrop they picked.