Counting the number of tiny stockings left in the children's Advent calender for the Tomten to fill with persimmons, cinnamon sticks, and little wooden animals (yes, we're exuberantly mashing winter traditions… it just kind of happened and I'm rolling with it… besides, you know the Tomten and Baby Jesus would have gotten along just fine because they both sleep in the hay with the animals), I see I'm down to eight measly days to complete the Christmas crafting. So naturally I'm making frequent excursion into Denial, aka Ravelry, to troll for new projects I'd like to cast on. And if you're doing the same, you may have seen that Winter Garden is live at last!
I'm glad to report that Ada loves the sample I knit in her size so much that she asked to sleep in it last night. It's already been worn to school a couple of times, warmed her on a few outdoor excursions, and… um… it was accidentally dampened during a nap. No matter, wool washes quite beautifully with a quick soak and squeeze in the sink and Brooklyn Tweed LOFT dries rapidly.
The pattern is written for sizes 12-18 months, 2/3, 4/5, 6/7 and has been tested in every size. It's got a schematic I'm absurdly proud of, a chart for the colorwork, links to video tutorials for the Channel Islands cast on, and even photo support for the button band—you may notice there's a new page called Tutorials under the blog header and it's home to a blow-by-blow account of my own progress through Anna Zilboorg's perfect buttonholes, which I've directed knitters to use in the Winter Garden pattern.
I'm so thrilled to have this pattern available for you all. It's not a quick and easy knit, but I hope it will challenge you in satisfying ways and give you the chance to try some new techniques. I like to stretch myself in my craft and appreciate patterns that expand my skill set, and I hope you'll find that Winter Garden is one of those. You can get it from the link in the first paragraph or by clicking the button in the sidebar, and I can't wait to see other versions sprouting up around the globe. I love the buttery, autumnal colorway my tester Anita dreamed up, for instance. And note her substitution of Blackberry Ridge Fingering Weight wool, which comes in a beautiful full palette and can be purchased in 1-oz. hanks, making it a far more economical choice for the contrast colors than LOFT. Blackberry Ridge's wool is American grown and milled in Wisconsin, so it's another great option to Knit Local if you're in the Midwest, although they ship all over the globe.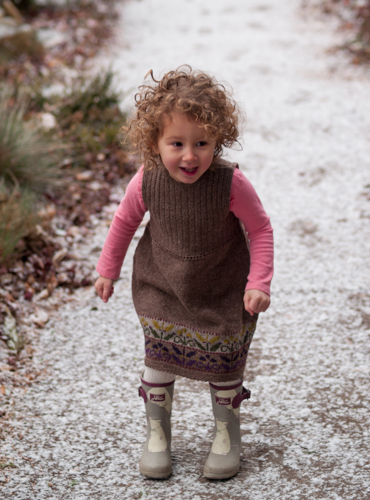 A further note on the sizing: Ada is wearing the 4/5 size with about 2.5″ of ease. She's almost three and a half and could still wear the 2/3 with 0.5″ of ease, but she's a robust little person and I wanted her to get a few years out of this dress. It's knee-length on her now, so not so long as to be cumbersome, but will probably still fit her tunic-style when she's five. I've made the skirt proportionally shorter in the smaller sizes for toddlers' ease of movement, but you can easily lengthen or shorten your skirt by adjusting the spacing between the decrease rounds. Also, while we're talking potential modifications, if you'd like more colorwork and less plain ol' stockinet, you could repeat the bottom half of the chart again without running into the decreases in all but the smallest size (and even there you could probably fudge it successfully). I've even been tempted to embroider flowers on the skirt above the truncated stems. (But there's the Christmas knitting and sewing to attend to. Must satisfy the urge to embroider by finishing a pair of stockings first.)
A few ladies have written they'd like an adult version, and I do hope someone will try this by scaling up the pattern with SHELTER or other worsted weight yarn! It would be an unflattering style on me, but I could see it working for other body types. Personally, I long to boost the colorwork motif for a fitted pullover, maybe with a boat neck and buttons at the shoulder… so many possibilities. I can't wait to see how you'll make Winter Garden your own!