In gratitude for your company in this space and for the league of knitters worldwide whose generosity invites newcomers into the fold, I've added a new free pattern to the Whistling Girl collection today! Meet Kulshan.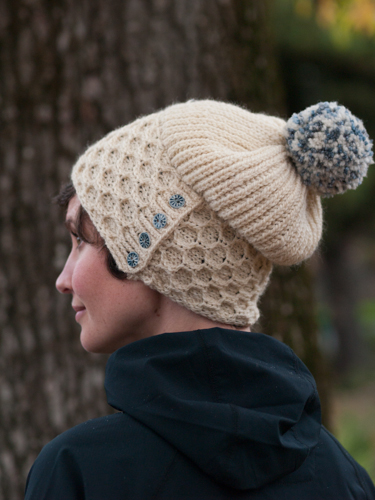 She's definitely the coziest hat I've ever made, and just the ticket for the blustery wet outdoors. I used a heavy worsted farm yarn that my friend Betsy sent from Bridge Farm in Maine, but the construction makes it simple to use lighter or bulkier yarns and to tailor the fit to the recipient's head size. (Brooklyn Tweed Shelter would be a great substitute if you wanted less heft without sacrificing warmth; The Fibre Company Terra would make an amazing silky version…) The cabled band is knit sideways, then stitches are picked up for a crown in slouchy fisherman's rib. The oversize crown traps heat and allows versatility in styling. Those buttons? Not just for decoration: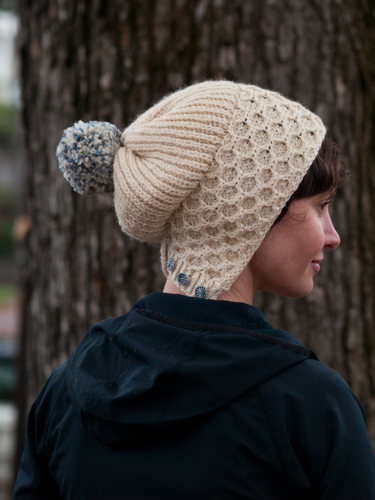 Now it's… a snow bonnet? I'm not sure what this shape of headgear would rightly be called, but it's useful if you need to guard the back of your neck against drafts or if you don't wish to flatten the front of your coiffure. As for the giant pompon…well, why not? It was a bit of fun I couldn't resist.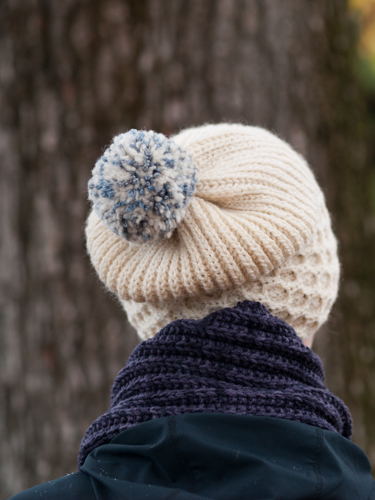 The contrast color in the pompon was a happy accident. I wanted to use every last inch of my 250-yard skein, but it's really a large hat and a wimpy pompon simply wasn't going to suffice. So I mixed in some Madeline Tosh from the stash that exactly matched the buttons from Jenny the Potter, and I quite like the balancing effect it gives.
I want to tell you about the stitch pattern on the brim. I'm calling it single honeycomb because it's like the classic Aran honeycomb, except a single stitch is traveling rather than a pair. I spied it on a friend's cardigan, a wonderful garment knit by her great-aunt in Ireland. (Let's all pause for a moment to indulge in a bit of envy, shall we?) Every woman in their family has a sweater featuring panels of this motif, which they think of as the family cable. I cast on my Kulshan hat in part to swatch the single honeycomb for use on a little jacket for my new nephew (that pattern is probably next in the development queue once Winter Garden is out), and it turned out to be a perfect match for this yarn.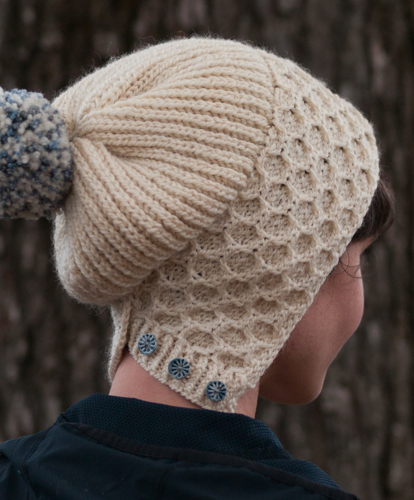 Koma Kulshan, or simply Kulshan, is the original name for Mt. Baker, the snowy peak that stands sentinel over the islands where I grew up. It's only the fifth highest mountain in the Cascades, but it's one of the snowiest places on the planet. The Mt. Baker Ski Area recorded 1,140 inches (2,900 cm) of snowfall in a single season in 1999, which set a world record. That's worth an eponymous hat, I'd say.
I think you'll find Kulshan knits up quickly enough that it's not a completely unreasonable late addition to your holiday gift knitting roster, should it catch your fancy. But you may want to queue it up for decompression knitting once you've survived the frenzy, too. I'm told it's going to be a long winter. Mr. G's cousin in Arkansas says the oak trees hurled down bushels of fat acorns like shot this fall, and the last time that happened it was a granddaddy of a winter. My neighbor says there are birds coming in from the hills that never venture into the city—a brown creeper here on our very street, if you can believe it!—so there's sure to be thick weather. So bundle up!